Pantherophis guttatus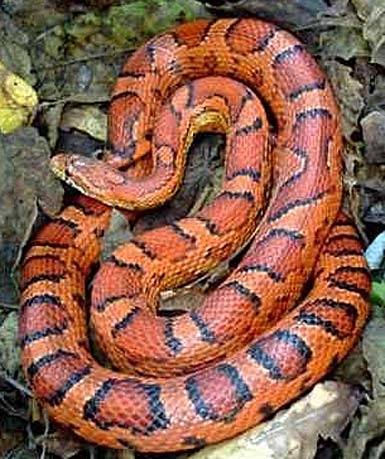 Red Corn Snakes are found throughout the eastern and southern US. They range from southern New Jersey to Florida and as far west as Mississippi to Louisiana. They can be found in many different terrestrial habitats. They favor rocky outcrops and deciduous forests where they can nest in crevices and logs. They can also be found in fields and around homes and barns.
Corn snakes are known for having a mild temperament. They are also non-venomous and cab reach lengths of 4-5 feet. These aspects are why people have kept them as pets, though they are illegal as pets in some states due to corn snakes being endangered in though states. Corn snakes are most commonly known to be red-orange and brown but depending on the region they can also be gray or yellow. They are sometime mistaken for copper heads due to the colors. You can tell the difference by looking at the narrower head, lighter coloration, and square-shaped spots on the corn snake.
Their name sake comes from the spotted black and white pattern on the belly that looks like Indian corn. They are also known to curl up in corn stokes and wait and ambush birds and small mammals when they come to eat. Corn snakes feed on birds, small mammals, amphibians, reptiles, and eggs. They will hunt by climbing trees or hiding out in borrows.